When I spent a week in Esperance, in Western Australia, last year, I often felt like I had stumbled into a fairytale. With the whitest sand beaches in the world to the clearest blue seas to the hot red earth and bubblegum pink lakes, it didn't seem real. It was too colorful, too peaceful, and maybe too perfect. 
Australia's pink lakes have mesmerized many over the years. They've certainly made their way into my Instagram feed time and time again. As I scrolled past, the images slowly imprinted in my mind on my ever-growing list of places to visit.
When the opportunity presented itself to return to Western Australia right after our borders opened in New Zealand last year, I jumped at the chance. Esperance, a quick regional flight away from Perth, is home to the most famous of pink lakes – Lake Hillier. This was finally my chance!
There are a handful of pink lakes dotted around Western Australia.
There used to be even more, but they can change color. Lake Spencer/Pink Lake sits right by the town of Esperance, which used to be hot pink but slowly changed to blue in 2017. The general consensus is that the construction of the nearby South Coast Highway altered the water flow into the lake, reducing its salinity. There are rumors that they might work on restoring the lake to its natural pink again. 
But by far, the most famous of Australia's pink lakes have to be Lake Hillier. Situated on the edge of remote Middle Island 130 kilometers off the coast of Esperance, the hot pink lake contrasts starkly with the turquoise sea. The pure white sandy beaches and green native bush amplify the colors even more. 
This is where everyone wants to visit. 
How do people visit Lake Hillier?
Most people opt to fly to Lake Hillier on a scenic flight because of how far it is. Also, the scale and the colors are best appreciated from above. There are occasional boat trips out to Lake Hillier, but they're not all the time, and it's far through pretty rough seas. Access is limited because Lake Hillier is an A-class Nature Reserve with extremely high environmental protection. You can fly there with Fly Esperance and also see Cape Le Grand and other amazing spots around the region. 
You might have noticed that my photos of Australia's pink lakes aren't Lake Hillier. This is because before I visited in September 2022, there was a huge rainfall event, flooding the lake and changing its color. BUMMER! However, all was not lost because there were other pink lakes in Esperance we could fly over. Varying in hues from light pink to orange to red, these rainbow lakes were just as amazing. And don't fret; Lake Hillier will return to its pink hue. 
I opted for the Fly Esperance pub crawl, which included the amazing scenic flights, as well as stopping at a few remote pubs throughout the day.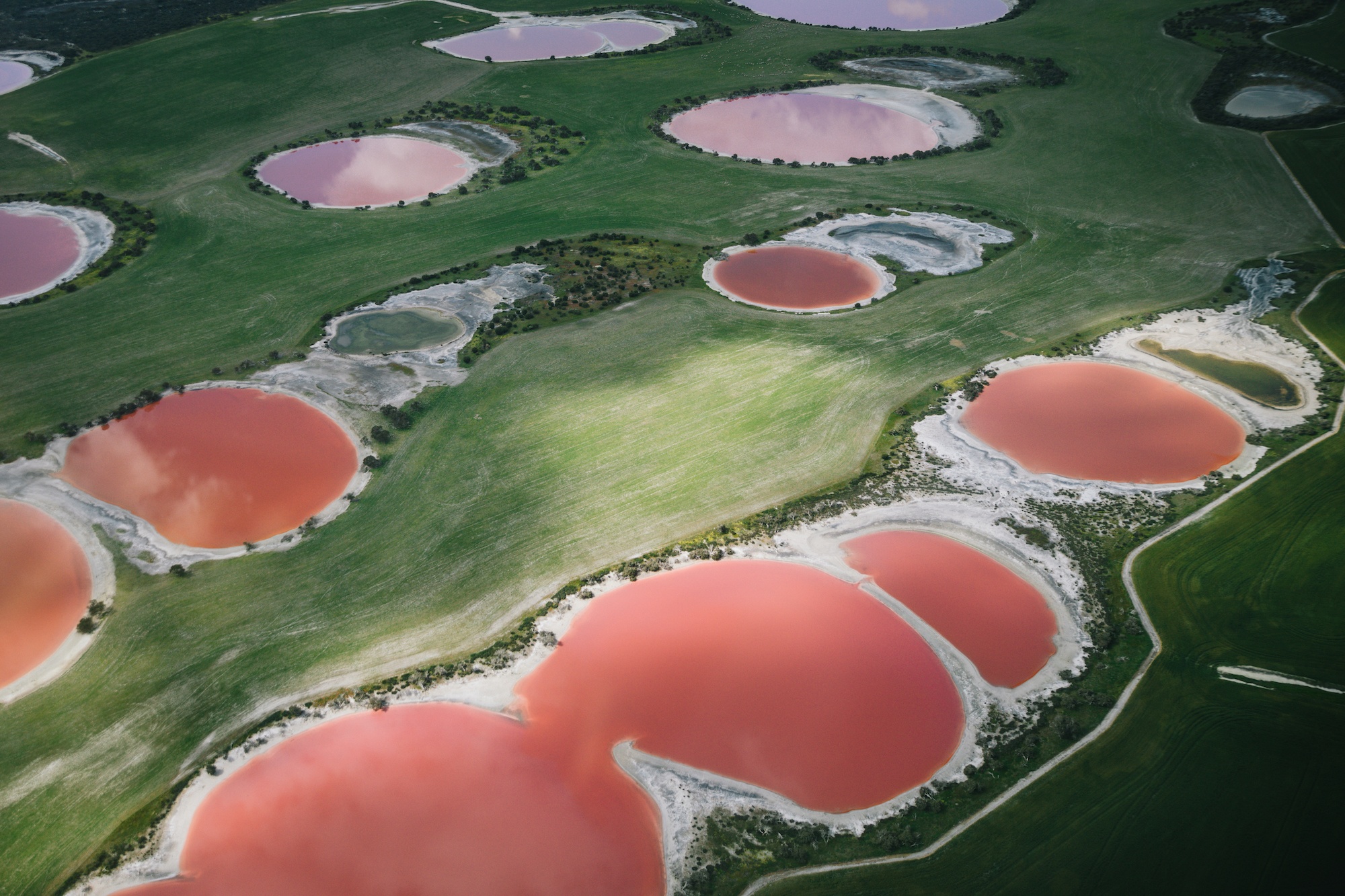 So what's the deal with Australia's pink lakes?
Science says that the pink color is caused by a mix of a few things – algae, halobacteria, and other microbes. Within its pink waters lie at least ten species of salt-loving bacteria. There are also several species of Dunaliella algae, which are red and pink. The lakes are also very salty. 
At least for me, the fact that it's algae and bacteria making the lake pink in color doesn't deter me. It's still so whimsical and unique to feel like it's out of a fairytale.
Middle Island was also the home of Black Jack Anderson, Australia's only known pirate in the early 19th century. The Recherche Archipelago was treacherous and uncharted, making it an ideal hideout for the pirates.
The pink lakes around Esperance are iconic even for locals.
Lake Hillier inspired the newly launched Esperance Distillery Co. to craft a beautiful pale pink gin infused with local botanicals: Esperance wax, lemon bush, and rosella. Established in 2020 by a father and son team during the pandemic, it operates as the smallest distillery in Australia. Gotta love a covid business! 
Seeing these pink lakes will delight and surprise just about anyone. Unusual and unforgettable, it was definitely a highlight of my time in WA. Though there's so much to see in and around Esperance, don't make the pink lakes your only adventure. There are many incredible places, adventures, and experiences to connect with here. And in all different colors too. 
Have you ever seen anything like this? Is Esperance a place you'd like to visit? Share!
Many thanks to Australia's Golden Outback for hosting me in Esperance. Like always, I'm keeping it real – like you could expect less from me.
The post Australia's pink lakes are straight out of a fairytale appeared first on Young Adventuress.