Fifteen years ago, when I was studying abroad in Spain, I took my first solo trip away for a weekend. On my own, simply because I couldn't find a travel buddy last minute, it was the beginning of a lifelong love for solo travel.
Later, when I started sharing stories of solo female travel on my blog, it was unusual. Time and again, I was told that the world was a dangerous place for a girl by herself; I was called crazy for exploring on my own – often, ironically, by people who hadn't traveled much at all.
In the end, I found the opposite to be true. I've had the best experiences, misadventures, and friendships all on my own – an education you can't buy.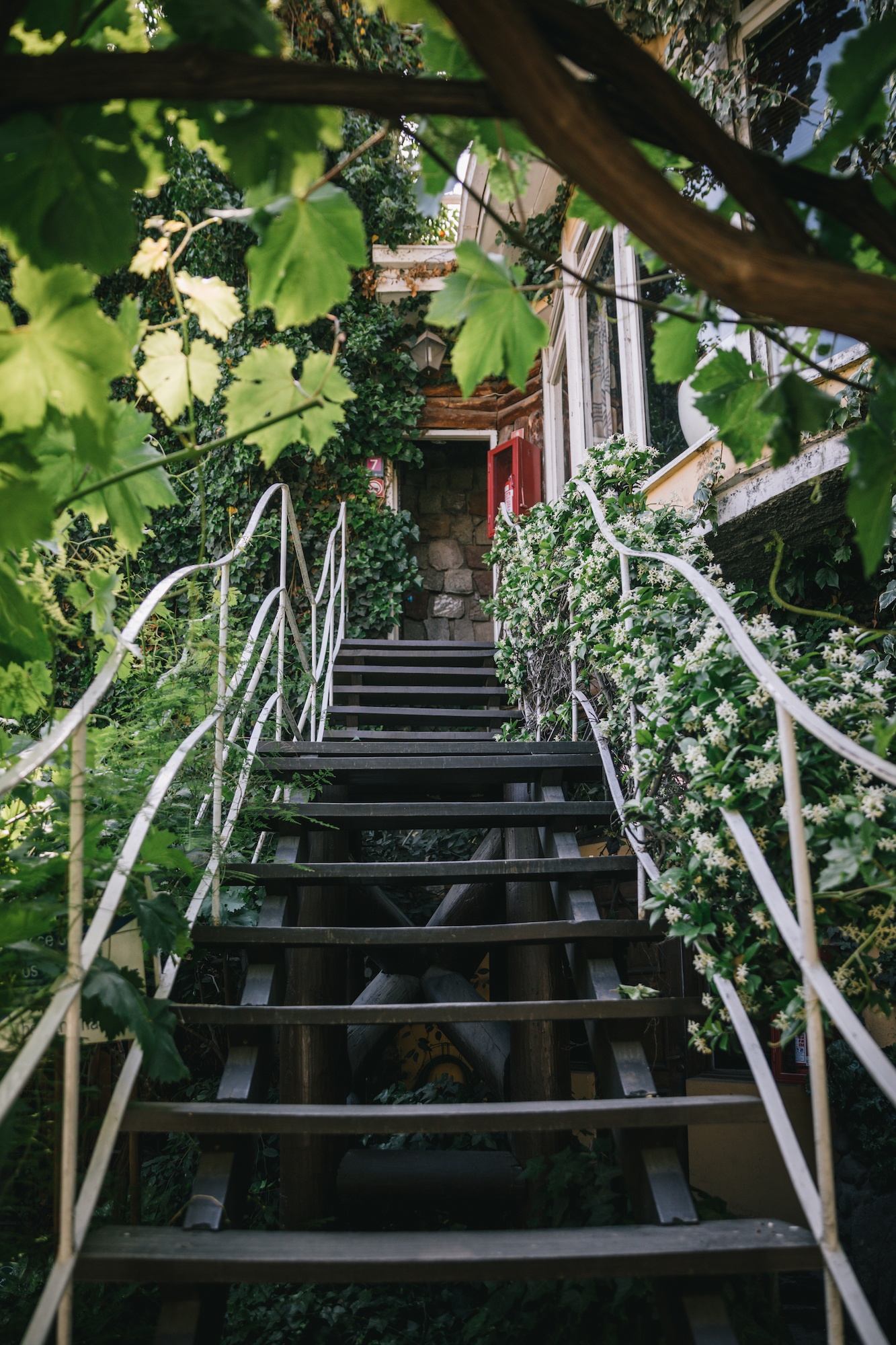 For the past few years, I've been yearning to get back to that feeling of discovery of landing in an entirely new place. There's something so exciting about stepping off a plane in an unfamiliar country when you don't know what's happening around you. In that chaos and uncertainty is where the real fun begins.
Recently, I found myself in Santiago, Chile, on my own and not knowing anyone, with a few days to explore. I was on my way from New Zealand to Ushuaia at the bottom of Argentina, where I was leading my first trip to Antarctica. Air New Zealand no longer has their Auckland – Buenos Aires route (wah!!), so I had to fly LATAM for the first time. Verdict's still out on that one. 
It felt so good to return to my travel roots, just to wander and see where I end up. I spent hours getting lost in the colorful back streets, checking out places I've longed to visit, like Pablo Neruda's house, and munching on as many empanadas and pastries as possible.
Here are some snippets of 48 hours in Santiago, Chile. Enjoy!
1. Go for a wander and get lost
It has been a long time since I've stepped foot in a new city, exploring independently. It's kind of crazy to think about. Before the covid lockdowns in New Zealand, I had created familiar travel paths, often returning to the same places en route to somewhere else. Dubai. Sydney. Hong Kong. I know them well.
After a big power nap at the hotel in Santiago, I hit the streets around Bellavista, where I was basing myself. In fact, I literally hit the streets. Looking at maps on my phone while walking, I stepped into a huge hole in the middle of the sidewalk. It was not a great start to the trip, but it did wake me up from the jetlag. Luckily nothing was broken except my ego.
As a magnet for misadventure, I never leave New Zealand without travel insurance anymore – the peace of mind comprehensive policies from Southern Cross Travel Insurance keep me company and allow me to fully relax and enjoy my travels while I'm overseas. Thankfully I didn't need it because that would have been a big bummer. 
Realizing my folly, I popped my phone away and just started to wander, like how I used to travel. I would just follow the streets that seemed interesting and see where I would end up. I love all of the incredible street art and colorful buildings around Santiago. It was the perfect start to the trip. Just don't walk and look at your phone at the same time in cities where the sidewalks are anything but uniform.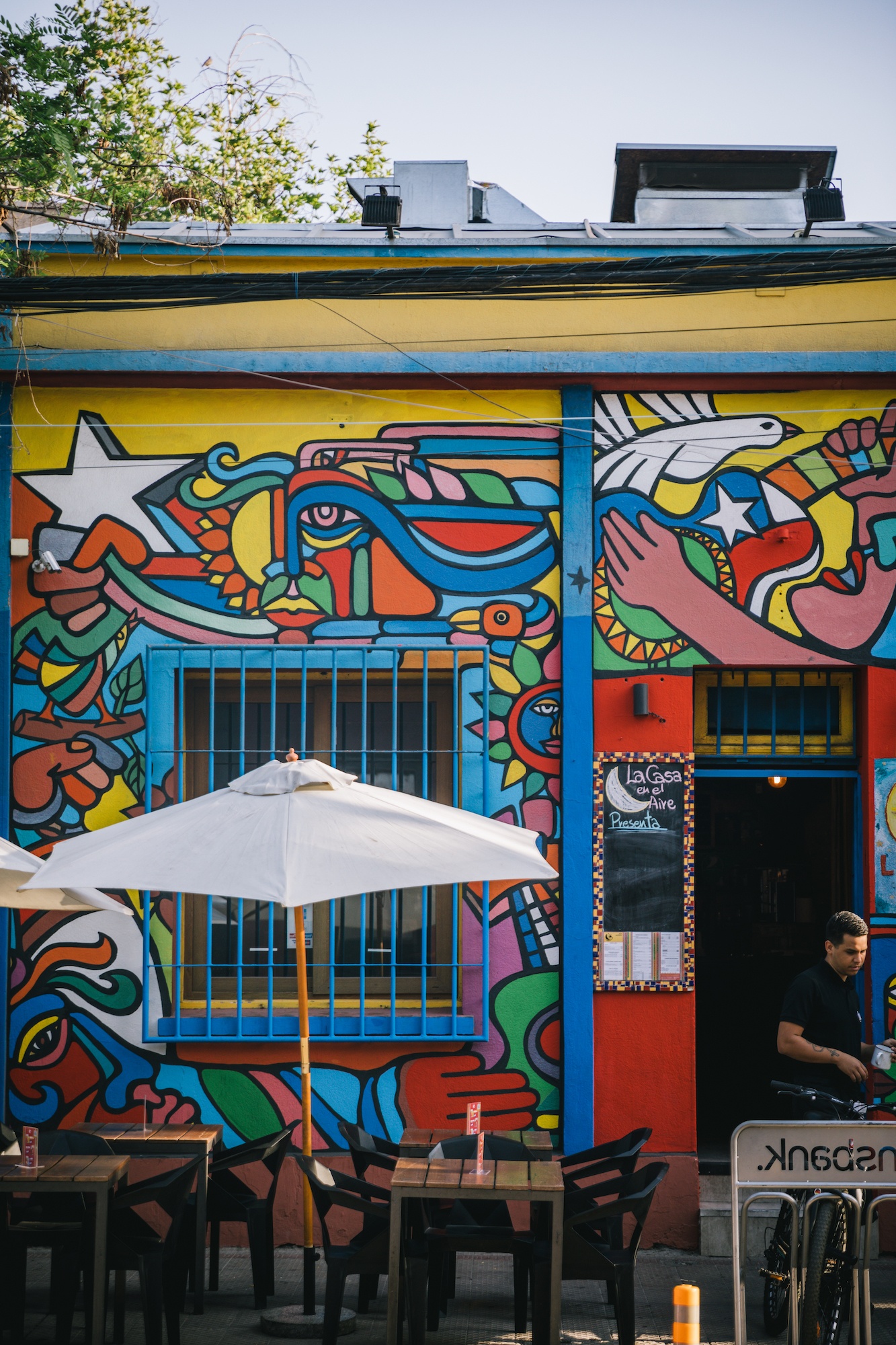 2. Eat all the things
I have long advocated for getting to know a place through its food. I was super happy to jump right back into trying all the things. With only 48 hours in Santiago, Chile, I knew I had to plan my meals carefully to make the most of them. Anyone else do this?
Back in this neck of South America, I knew my first feed would be empanadas. In Chile, their empanadas are called empanadas de pino, and their big, fat, and generously stuffed with beef, raisins, onions, olives, and hard-boiled eggs. Wait, don't click away yet; it's actually delicious. The perfect comfort food. Another dish I saw everywhere was pastel de choclo, which is kind of like a corn pie stuffed with the same ingredients as the empanadas. But what I was dying to try again were humitas, which are like freshly stuffed corn cakes wrapped in the husk. So yummy!
I love learning new food words in Spanish when I'm traveling. In Spain, I learned so much, but it varies so widely. I had never heard of "pino" or "choclo" before this trip. 
3. Visit Pablo Neruda's house
I have loved the poetry of Pablo Neruda for a long time. Perhaps one of the greatest poets composing in Spanish, his work transcends language and is universally popular. In fact, he's probably Chile's most famous son.
When I studied at the University of Salamanca in Spain when I was 19, there was a wall near one of my school buildings that had a famous Neruda quote graffitied on it: "Quiero hacer contigo lo que la primavera hace con los cerezos." In English, it roughly means "I want to do with you what spring does to the cherry trees." It sounds better in Spanish. But I've been a Neruda fan ever since. 
One of the three houses Neruda owned in Chile is in Santiago, La Chascona. They're all museums and absolutely worth visiting. It's super quirky and filled with the most amazing art, sprawling over many levels where the indoors and outdoors merge together. Another Chilean word, La Chascona, refers to his secret lover's big curly red hair.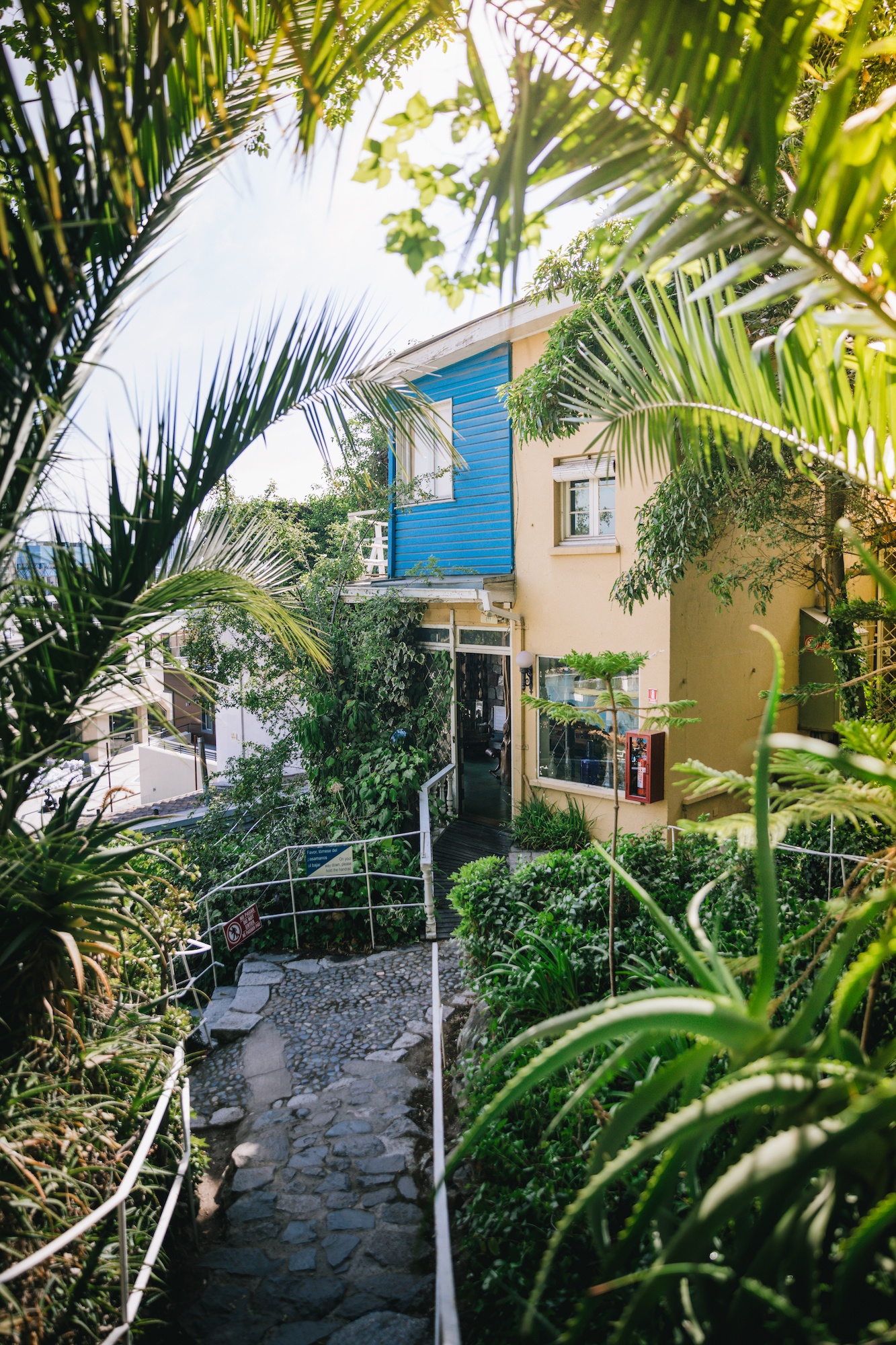 4. Stay at the Hotel Boutique Castillo Rojo
The travel industry is very much finding its feet after years of pandemic wonkiness, and there's no denying that the world has changed a lot in the fifteen years since I first moved to Spain. Instead of calling cards, we have fancy phones, and we can tap our credit cards instead of exchanging cash.
Not to mention I've changed too – no more hostels or big backpacks, or sleeping on airport floors for this girl.
I spent ages figuring out the best place during my 48 hours in Santiago, Chile. I finally settled on the Hotel Boutique Castillo Rojo because it's incredibly charming. And it was amazing. Close to everything I wanted to see. It also has beautiful outdoor gardens and a great in-house little bar and restaurant. Money well spent.
5. Soak in the sunset on San Cristóbal Hill 
Without even planning it, my feet somehow led me toward a beautiful hill in the city as the day was wrapping up. Without really thinking, I knew this would be a great spot to watch the sunset. 
San Cristóbal Hill is the city's largest green space and public park with incredible views. You can take a cable car up to the top, with many paths and places to wander around. Of course, there's a big statue of La Virgen de la Inmaculada Concepción because we're in a Catholic country. 
While it's definitely not a secret spot and will be packed with people, it's still worth the journey up for the views. 
Any tips to add to 48 hours in Santiago, Chile? Share!
The post 48 hours in Santiago, Chile appeared first on Young Adventuress.